St John the Baptist Ch
Also try our Facebook page https://www.facebook.com/StJtBWithington/
The History of Our Church
The following text is from the "Saint John the Baptist Church Visitor Guide", written by L.J.Stone and available from the church entrance.
There has been a church on this site since at least medieval times. The early church was built as a chapel to the Church of Saint Lucia in the next village, Upton Magna. One of the graves is listed, that to Robert Smith of Acton Reynald dated 1798.
A branch of the Shropshire Union canal ran along the south of the site, it was finally de-watered in the 1960's.
The watercolour below is Withington Old Church, circa 1845 by J. H. Smith.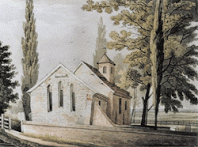 The Church Today
The church that can be seen in the village today was completely rebuilt in 1874 by G.E. Streete, on the site of a much older building.
It is built of sandstone with a tiled roof and low stone tower with spire to the West. This tower houses two bells from the 13th and 14th centuries in a frame circa 1800.
Remnants of the furnishings of the earlier church have also survived - the stone reredos depicting the crucifixion, the stone font, stone pulpit, chancel wall and the eagle lectern.
Withington Church is renowned for its 16th Century brasses, the oldest has effigies to John Onley, his wife and 7 children (1515) The other brass is of Adam Grafton(1530). He was a former vicar of Withington (among many parishes!) and one time chaplain to Edward V and Prince Arthur.
Inside, the chancel has a trussed rafter roof with a collar beam added and the nave has a collar roof over.
A Guided Tour
You will have entered through the porch and North door. Immediately to your right note the 1873 grant certificate.
Keeping right you will pass the vestry with its Blakeway and Corbet-Brown memorials before reaching the stone font and carved wooden cover.
In front of you, on the South wall, is the 1914-18 war Roll of honour and the Halke window, with its likeness of Saint Lucy.
Further down the South wall you will see the 16th Century Onley brass, before reaching the stone pulpit and the stone chancel rail.
Mounting the chancel steps, behind the choir stalls, you will see a brass tablet acknowledging the role of Reverend Halke and the two-light Haworth stained glass window. There is also a locally made chair known as the bishop's chair.
At the end of the church is the three-light East window above the altar depicting Christ and the four Gospel Saints, including Saint John. Notice also the stone crucifixion scene above the altar.
Moving round to the North wall again you will pass the organ and Withington's other 16th century brass, this one is to Adam Grafton.
Down the chancel steps you will pass the eagle lectern, the brass to The Fallen and a 2nd World War Savings Certificate, before reaching the exit door.